FEMINIST DURATION READING GROUP


---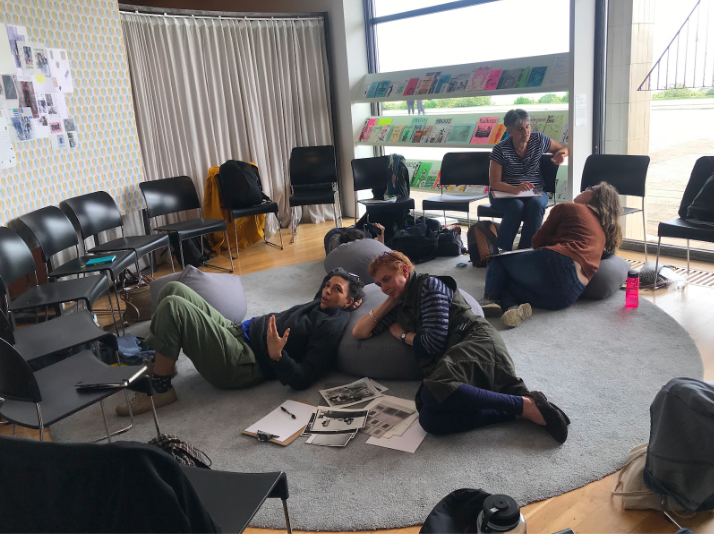 2015 - 2019, SPACE, Hackney
2019 - 2020, South London Gallery
and other non-institutional spaces
The Feminist Duration Reading Group focuses on under-known and under-appreciated feminist texts, movements and struggles from outside the Anglo-American canon. The group has developed a practice of reading out loud, together, one paragraph at a time, with the aim of creating a sense of connection and intimacy during meetings.
The Feminist Duration Reading Group Started at Goldsmiths, University of London, in March 2015, and since July 2015 has been generously hosted by SPACE in Hackney and South London Gallery. The group also regularly meets in non-institutional spaces, including in community centres and in the groups' homes, where cooking and eating combine with reading and talking. In the context of the COVID pandemic group activities have been moved online.
The group welcomes feminists of all genders and generations to explore the legacy and resonance of art, thinking and collective practice from earlier periods of feminism, in dialogue with contemporary practices and movements. It is led by the Feminist Duration Working Group whose current members are Giulia Antonioli, Angelica Bollettinari, Beth Bramich, Lina Džuverović, Lily Evans-Hill, Sabrina Fuller, Haley Ha, Mariana Lemos, Katrin Lock, Ceren Özpinar, Sara Paiola, Helena Reckitt, and Ehryn Torrell.
www.feministduration.com